The condition of your tires & brakes can have a major impact on the handling and safety of your vehicle. Having regular inspections is important to ensure that your car is properly prepared to respond to potential weather elements and your personal driving habits.
Maintaining this most crucial equipment can play a big role in how well your vehicle responds to difficult road conditions. Before you start hearing any grinding sounds or find yourself sliding on wet or sandy roads, have Sher's Auto inspect your vehicle.
Brake Services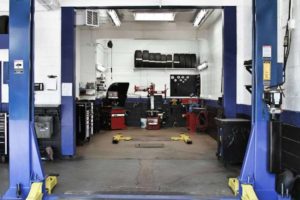 Whenever you get on the road, do you hear a grinding, squeaking, or squealing sound when you press on the brakes? Does the steering wheel shake? It may be time for a brake check.
Sher's Auto services all makes and models, including Asian, Domestic, and European. Whether you need new brake pads, find that the fluid has been contaminated, or bled, our highly-skilled professionals provide the following:
Standard Brake Checks: We'll measure the front and rear brake pad wear and examine the rotors and drums for wear.
Installation: Count on our professionals to install new brake pads or shoes; resurface or replace the brake rotors or drums; or do a brake fluid change. If there's bleeding, we're prepared to replace any brake lines, hoses, and other parts.
Tire Services
Winter to summer, the roads wear down your tires, with potholes, glass, and nails abrading or puncturing the surface. Because you want to keep your tires in good condition, always prepared to face the weather ahead, come on by when you need the following services:
Flat Tire Services: When there's a minor puncture, we're ready to repair it with a seal or liquid patch.
Tire Rotation: A must for preventing uneven wear, extending the life of the tires, and improving fuel economy.
Tread Depth Measurement: Ensure your traction is ready for the weather. Reduce the risk of hydroplaning or losing control in slippery conditions.
New Tires: Our team's here to help you find the best tires by size and vehicle fit. No matter if you simply need a new set or are getting ready for winter, Sher's Auto offers competitive pricing on all major brands, in addition to reasonably-priced branded tires from BF Goodrich, Bridgestone, Continental, Dunlop, Firestone, Goodyear, Hankook, Michelin, and Uniroyal.
At Sher's Auto, our team prides ourselves on personal service to all customers. Our staff gets to know your driving habits and vehicle in order to provide full and proper recommendations concerning upkeep – stopping by isn't just an anonymous, in-and-out experience. As well, our team, including all technicians, is available at any time to answer customers' questions.
Give your vehicle the personal touch it deserves. For tire or brake services throughout the year, contact our location to schedule an appointment.